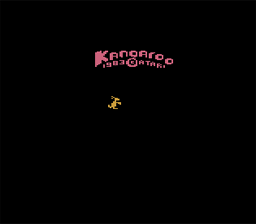 Storyline:
The object of the game is to score as many points as you can while helping Mother Kangaroo rescue her precious baby. Use your joystick controller to guide Mother Kangaroo. You star the game with three lives.
During this rescue mission, Mother Kangaroo encounters many obstacles. Push your joystick up to help her climb ladders, hop over logs, and jump over apples; pull the joystick down to help her duck under apples. Help her pick bonus fruit, and ring the bell at the top of the screen by making her hop up to touch the fruit and bell. Push the joystick diagonally right and left to help Mother Kangaroo take Super Leaps across broken logs. Press the red fire button to make Mother Kangaroo throw punches at monkeys and apples.
--From the Atari 2600 Kangaroo instruction manual.